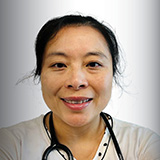 Dr. C. Cai
Family Doctor (Female)
MB BS, MSc, MRCGP, DRCOG, CCFP
Dr. Cai completed her medical degree at the Soochow Medical School in China. She then relocated to the U.K. and completed her postgraduate training in Family Medicine in 2012.
Dr. Cai is passionate about primary care and feels fortunate to work with her patients and their families. She also has special interests in family planning and menopause care.
In her spare time, Dr. Cai loves cooking, hiking, and spending time with her dog Dembe.
Dr. Cai is not currently accepting patients.